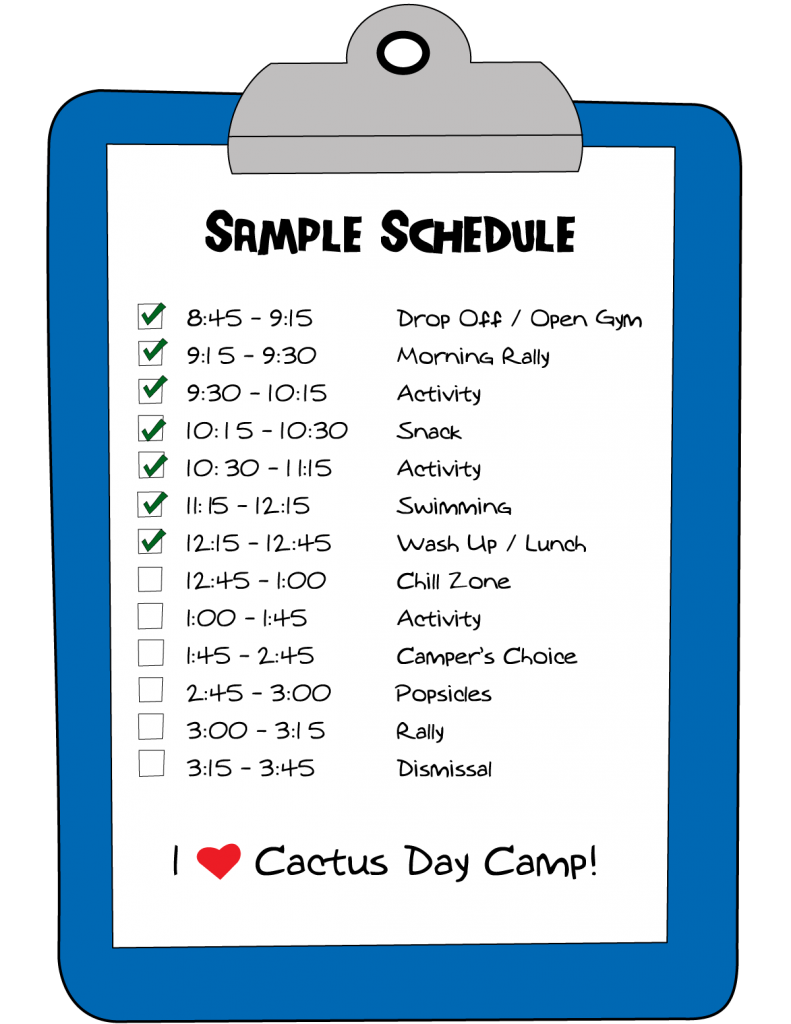 Rallies – Time to gather together as an entire camp. celebrate birthdays, win prizes, dance, sing and show your spirit!
Swimming – Cactus Day Camp has two pools on campus: 10ft and 4ft deep. Campers swim every day and will have the option to swim a second time for Camper's Choice. The pools are staffed with certified lifeguards employed by Cactus Day Camp and counselors accompany their campers to the pool.
Camper's Choice – In addition to regular scheduled group activities, campers entering kindergarten and up have a chance to choose their favorite activities again during Camper's Choice.
Lunches – Campers are required to bring a lunch and drink each day. Lunches are collected each morning and kept cool until lunchtime. On Fridays, Cactus Day Camp will host a barbecue lunch. Campers choose from a hot dog or bagel. All campers receive water and pretzels/chips as well. There is an optional lunch program where parents can order lunch online for their child(ren) to be delivered to camp on Mondays, Tuesdays, Wednesdays and/or Thursdays.
Chill Zone – This is a structured relaxation time for campers to just chill and hang with their group playing games and socializing.
Water Activities – Campers need to bring a bathing suit and towel to camp everyday. We have sprinklers and water slides hooked up each day. We also have lots of water games throughout the sessions like bucket brigades, water balloons, slip-n-slides, and more to cool your child off.
Rock Climbing – Cactus Day Camp rents a rock climbing wall two days a week from an independent contractor. Camp groups will be assigned rock climbing once a week.
Guests & Special Events – Special guests and performers such as magicians, puppeteers, animal trainers, and DJs visit camp. This gives campers an opportunity to watch, learn, and participate in additional activities.
Special Days – Each Friday we culminate the fun with an exciting theme and special schedule. Special days such as Carnival, Olympics, Color Day, and Wacky Water Day are highlights for campers and a time when spirit and enthusiasm are at an all time high!
Overnights – An overnight experience is an option to campers entering 1st grade and older during select sessions at an additional fee.