Meet the Directors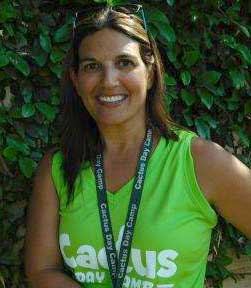 Karyn, Owner/Director
Cactus Day Camp is owned and directed by Karyn Miller. Karyn grew up splitting her summers between overnight and day camps. After years of being a camper, Karyn worked at Banner Day Camp in Illinois as a counselor, teen director and assistant director. She then worked year-round as the associate director for overnight camps, Lake of the Woods and Greenwoods in Michigan. After seven years, Karyn resigned from her position to bring a much needed traditional day camp to our valley's children. A certified teacher, Karyn holds a bachelor's degree in Elementary Education, a Master's degree in Curriculum and Instruction and was principal at the Fountain Hills Charter Montessori School for six years. Karyn is supported by her husband, Gary and their West Highland Terriers, Marty and Stanley. They moved to the valley in 1997 from the Chicago area.
---

Kaitlyn Kriz, Program Director
Kaitlyn has spent 6 glorious summers at Cactus Day Camp with this summer being her 3nd summer in her role as Program Director. As a child, she attended overnight camp for several summers and has felt like she's never truly left. Summer camp has impacted her in such a way that she feels that it truly has shaped her life. She graduated from NAU in 2015 with a degree in Parks and Recreation Management with an emphasis in Education and Wilderness Studies. She spent a year at the University of Montana participating in the Wilderness & Civilization Program. She has had numerous experiences with kids over her life, in and out of the camp setting. Kaitlyn has worked as a Counselor & Program Director at CDC, an Assistant Coordinator to a Non-Profit camp, a substitute teacher, a nanny, and she's even worked as a coordinator for a college transition program for students with Aspergers. Kaitlyn thoroughly enjoys travel, camping, adventure and everything outdoors. Her life goal is to visit all the National Parks in the US with her current record being 25 National Parks. Kaitlyn currently holds a Level 2 Archery Instructor Certification, is certified in CPR/First Aid, and is an Associate Visitor for the American Camp Association. Kaitlyn is ecstatic to be at camp and cannot wait to see what her summers at Cactus Day Camp bring.